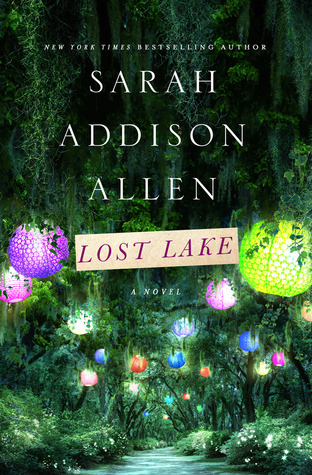 Lost chances, lost ways of life, Lost Lake; a little story about finding, forgiving, moving on, and healing. Sarah Addison Allen's most recent novel doesn't have quite the same magic as some of her previous novels, but it still delivers a gentle story, for one that starts out with Kate coming out of the frozen period that defined her first year of widowhood. Staring an existence mapped and planned by her calculating mother-in-law, all it takes is the discovery of a postcard from her Great Aunt Eby to make her grab her daughter Devin and flee to the refuge of Lost Lake. It was a spot where she spent a happy summer as a child, at lakeside cabins owned by Eby. But instead of a thriving retreat, she finds Eby on the verge of selling the place to a sleazy realtor. As Kate unthaws, and the regulars who've come to Lost Lake try to figure out what to do, a little of Allen's magic slips in. Some of the characters are a bit forced, but others, like Lissette, and Devin in her mismatched clothing, the costume of childhood, were lovely.
The book interweaves several stories starting with Eby's magical honeymoon trip to Paris decades ago. From there, other points of view follow Kate, and also several of the "regulars" who've come to the lake for years, and Wes, who Kate met as a boy the summer she came to Lost Lake. Like Allen's other novels, to date, this one is set in the South, in Suley Georgia, a land originally settled by people who'd moved up to Georgia from the Everglades. I loved that the name of the lake represents not the fact that it's hard to find (it is), but that , with cypress knees and murky waters, it reminded the early inhabitants of their home left behind.
My favorite Sarah Addison Allen? No. But still a decent read on a summer's afternoon.
Tags: a-favorite-author, audio, magical-realism, read, set-in-my-stomping-grounds, set-in-the-south, southern-author