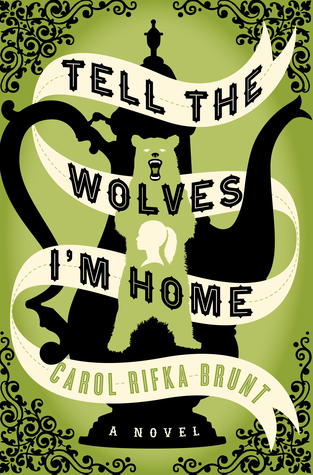 A reading friend recommended this to me. I'd passed it over in the book giveaway lists because I've been steering clear of coming of age novels of late. But with the recommendation, I got an e-copy of it on loan from my library, and began reading it a day before heading off to New York City for a long overdue reunion.
I was a slightly awkward adolescent, lost in my own imaginings, yet able to make an occasional successful foray into the world around me thanks to some dear friends who never mocked my oddities, and encouraged interactions on a level I was comfortable. By the time I reached high school, I was able to successfully separate my mind travels from everyday life; thinker disguised as teenager. Entering into June's world brought those memories to the surface, though June's world is of the late 1980's when I was already a couple of decades out of adolescence.
What truly captured me was the inclusion of The Cloisters as a sanctuary, memory, and haven for June and her uncle Toby. I'd never been to The Cloisters, though have read about the place so many times, that if I had a bucket list, going there would be one item. This trip, my family and I fulfilled that wish, and spent an afternoon wandering simultaneously through Upper Manhattan and Medieval Europe. Because of June's love of the place, and the book's descriptions, there were art and artifacts that I "recognized" especially "Enthroned Virgin and Child", the birch statue of Mary and Jesus with the baby's head missing (Better picture and catalog info
here
.) Thanks to June, it was not my first visit to Fort Tryon Park, nor the first time I smelled the air, still reminiscent of Catholicism. To be fair, June and Toby's love of Mozart's Requiem, tea, Amadeus, and A Room With A View, also hit chimes with me, as all are loves of mine. And whether it's a beloved uncle, or the boy down the street, first loves can be both beautiful and heart-breaking, truly deserving of the word "bittersweet" and the stuff of memories.
Enthroned Virgin and Child, France, ca 11-30-1140
As to the cause of Toby's death, I was still practicing as a nurse when AIDS first appeared. My awareness and understanding of it came from the medical aspect, though all too soon, people I knew in my personal life, not just as patients, began to contract the disease. AIDS is indirectly responsible for my own health woes, as exposure to improperly treated latex/natural rubber rushed into production for gloves into the medical system are what caused my own latex allergy and resulting pulmonary ills.
This book also had some other elements that played favorably for me, particularly the examination of sibling relationships, both for June and her sister, and for her mother and uncle. I thought the author did a nice job, as well, revealing the growing friendship between June and Toby, the lover of her dead uncle. The tiny dips into the art world, and New York City also matched my days of reading the book on the train, in a park, curled up at night while the sounds of 6th Ave bustled outside my hotel window.
There are those who will be impatient, want a faster pace, less adolescent angst. Fine. This may not be the book for you. But for me, this was the best time and place to tell the wolves I'm home.
Tags:
2016-read
,
e-book
,
read-on-recommendation
,
places-i-have-been
,
taught-me-something
,
made-me-look-something-up
,
made-me-think
,
thank-you-charleston-county-library
,
first-novel-or-book