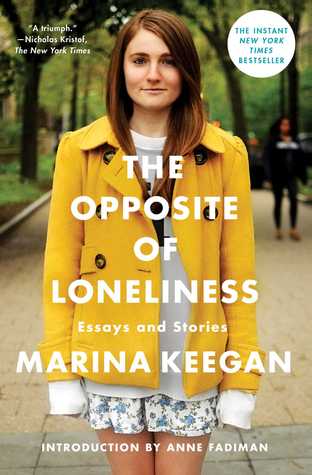 I feel almost guilty having m

ixed feelings about this book, which was highly recommended by a reading friend. (In fact, they gave me my copy.) Certainly the story of Marina Keegan's brief life is amazing and heartbreaking. I mourn for the loss of artistry and talent that came about because of her death. And, she certainly could write. Yet many of the pieces had me not so much engaging in them as wishing that her potential could have matured and fulfilled. Her stories and essays are evocative and beautifully written, but I was not as fully transported by some them as I had anticipated. Perhaps part of it is the generation gap-- she was born the same year as one of my children, which maybe explains why some things in that child's life mystify me. Another bit working against me is my limited appreciation for short stories. It's just not a genre that I particularly like. Ultimately, my dissatisfaction with the book is not in the writer, but in the reader.
Tags:
don-t-want-to-rate
,
i-heard-about-it-on-npr
,
made-me-sad
,
made-me-think
,
mixed-feelings
,
not-to-my-taste-but-worthwhile
,
read
,
read-on-recommendation
,
short-story
,
thought-provoking
For those unfamiliar with the story behind this book, and the life behind that story, I am reprinting the publisher's blurb here:
An affecting and hope-filled posthumous collection of essays and stories from the talented young Yale graduate whose title essay captured the world's attention in 2012 and turned her into an icon for her generation.





Marina Keegan's star was on the rise when she graduated magna cum laude from Yale in May 2012. She had a play that was to be produced at the New York International Fringe Festival and a job waiting for her at the New Yorker. Tragically, five days after graduation, Marina died in a car crash.





As her family, friends, and classmates, deep in grief, joined to create a memorial service for Marina, her unforgettable last essay for the Yale Daily News, "The Opposite of Loneliness," went viral, receiving more than 1.4 million hits. She had struck a chord.





Even though she was just twenty-two when she died, Marina left behind a rich, expansive trove of prose that, like her title essay, captures the hope, uncertainty, and possibility of her generation. The Opposite of Loneliness is an assem­blage of Marina's essays and stories that, like The Last Lecture, articulates the universal struggle that all of us face as we figure out what we aspire to be and how we can harness our talents to make an impact on the world.