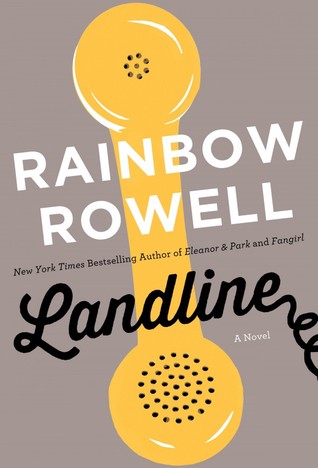 Let me start of saying that I pretty much figured I'd like this book even before starting it. I've read three Rainbow Rowell books and they've each knocked it out of the park for me. Had I not adored her other books so much, this might have gotten a higher rating. It deals with important stuff -- how we make, break, build. and fail relationships. I've certainly had my share of screw-ups, failing people that hold my heart together, so I'm not faulting the plot line, the author, or the main character, Georgie (though to tell you the truth, I'd rather meet Neal than her, in real life. I go for geeks.) It wasn't the premise of a phone that could call back into the past, either, because that sure could come in handy to straighten out some things that still hang over my head from Junior High, and is a brilliant idea. I guess it's like having a memory from your childhood of something that was so utterly fantastic and then seeing it as an adult, and realizing fine, but lacks the sparkle you'd given it over the years.
Basic plot: Georgie is a comedy writer for a sit com. She and her writing partner/best friend, Seth, who she's been working with since college, has a shot at their own show. If they can get some scripts pulled together and present them in 10 days, their writing dreams could come true. The kicker comes that the 10 days include the time that Georgie, her husband Neal, and their two girls are scheduled to visit his mother in Omaha -- for Christmas. Georgie chooses to stay behind in LA and write. The last time Neal went to Nebraska without her was when they were in college, also at Christmas, after a misunderstanding so severe, she thought they'd broken up. but instead, he'd appeared at her door on Christmas day, and proposed. Now, 15 years later, he has gone again. Unable to connect with him by phone (she has mobile phone problems, or only is able to reach her daughters or mother in law), she fears this is the end of their marriage. Her writing suffers, and unable to do much else, she ends up back at her mother's home, in her old bedroom. There, she is able to reach Neal by an old landline phone, but the Neal she reaches is much more like the one she knew before her marriage than the husband to whom she recently said goodbye.
There are some definite strengths in this story. Rainbow Rowell has a gift of creating ordinary guys and casting them as the romantic lead. Neal is not anywhere near the looks of the guys on the cover of romance novels, but he's genuine. And he's a terrific father and husband, even in difficult circumstances. The other peripheral characters also had their strengths. The plot-line is inventive, and the writing good. All together, it's a decent read, just not, for me, a superlative read; a good solid 3.5 out of 5 stars, but not a 4.
Tags:
bookshelves:
met-the-author
,
favorite-author
,
time-travel-reincarnation-etc
,
i-liked-it
,
color-me-disappointed
,
ok-but-not-great
, e-book