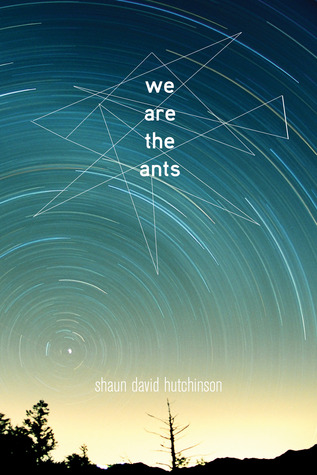 You know that satisfied feeling you have after reading a book that just pulled you right in? That was me when I finished reading
We are the Ants
. There were so many moments where the situation, or the author's way with words just pulled me in and held me close. I'm not a teenage boy, being raised by a single mom. My boyfriend didn't commit suicide. I'm not having a rough time at school. My brother and his girlfriend aren't expecting a baby. My grandmother isn't losing her memories. I'm not periodically being abducted by aliens. It's not up to me to save the world. But dammit-- I was right there with Henry, every step of the way.
And lest you think I'm kidding about the way I got sucked into the words on the page, try this one on for size:
"Dreams are hopeful because they exist as pure possibility. Unlike memories, which are fossils, long dead and buried deep."
I'm definitely going to look for more by this author.
From the publisher:
There are a few things Henry Denton knows, and a few things he doesn't.

Henry knows that his mom is struggling to keep the family together, and coping by chain-smoking cigarettes. He knows that his older brother is a college dropout with a pregnant girlfriend. He knows that he is slowly losing his grandmother to Alzheimer's. And he knows that his boyfriend committed suicide last year.

What Henry doesn't know is why the aliens chose to abduct him when he was thirteen, and he doesn't know why they continue to steal him from his bed and take him aboard their ship. He doesn't know why the world is going to end or why the aliens have offered him the opportunity to avert the impending disaster by pressing a big red button.

But they have. And they've only given him 144 days to make up his mind.

The question is whether Henry thinks the world is worth saving. That is, until he meets Diego Vega, an artist with a secret past who forces Henry to question his beliefs, his place in the universe, and whether any of it really matters. But before Henry can save the world, he's got to figure out how to save himself, and the aliens haven't given him a button for that.
(less)